Tech Tools In This Review
These days many health and wellness providers are trying to figure out how to offer the same (or even better) care and service using remote technology. This article discusses seven top apps enabling wellness pros to care for clients, patients, and students… wherever and whenever.
The Demand For Virtual and On-Demand Fitness and Health Services Has Exploded
The consumer trend toward on-demand, virtual health and wellness providers has been steadily increasing. The global pandemic just kicked up a few gears. Providing remote health and wellness management services has urgently become of paramount importance for business survival and quality care.
How Do I Know Which Remote Health and Wellness Business Management Tool Is Right For Me?
The first thing to do before sifting through the sea of tech tools available, is evaluate what features you need for your particular business. Here are some popular features that various platforms offer:
Live Classes
One-on-one video/text chat
Group chat
Tracking health metrics
Diet planning and Calorie tracking
Client online dashboard
Free Apps for Clients to schedule appointments, share and track their progress, and communicate with clinicians
Instructional videos
Ecourse platform
Supplement recommendations and selling programs
Appointment scheduling
Billing and Insurance Claim processing
Reporting and Record Keeping
Autopay and Point of Sale (POS) system
HIPAA Compliant – Secure with Patient data
Text Message/Reminders
Onboarding Forms
Branded Mobile and online Apps
Make a checklist of the tech features you think you need to operate your business and care for your clients.
Once you have a solid understanding of the features, you can better assess the tech tools designed for the health and wellness niche.
Our Honest Review Of 7 Remote Health And Wellness Business Management Tech Tools (+ Price Comparisons)
In order to help you select the best fitness and health business management app for your unique business, here is our honest review, with price comparisons, of seven of the best online EHR and CRM tech tools available.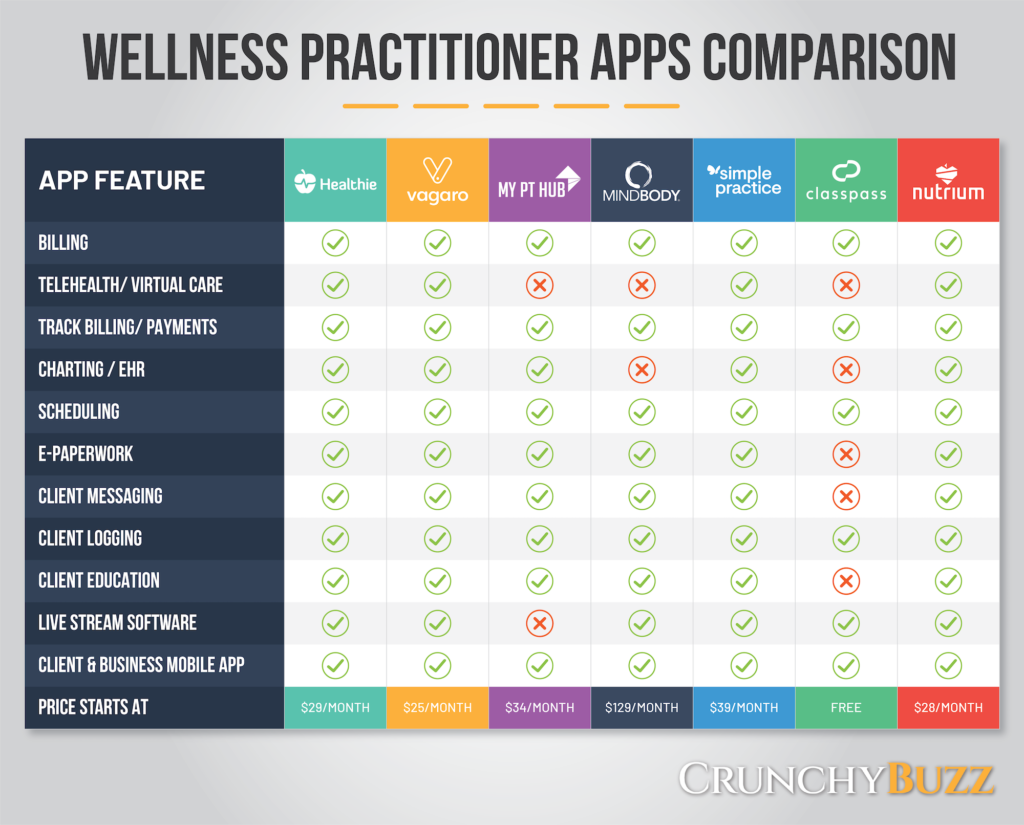 ---
Designed for: health practitioners, dietitians, therapists, naturopaths, and alternative medicine clinicians who need to be HIPAA, PCI compliant.
Healthie is a robust all-in-one, cloud-based, medical business management program It provides all the functionalities needed in healthcare software for small businesses and startups yet can easily manage larger medical enterprises. You will not need to change your medical software as your business grows. Healthie provides telehealth, charting, billing, and scheduling services online and for iOS and Android.
Healthie is one of the best platforms for hosting ecourses – which is becoming an increasingly popular format for offering your unique health and wellness take. In addition, it is one of the few cloud-based platforms that allow you to fully customize your online and mobile apps (and integrate them with your website) with your business' branding for a fee that depends on the level of customization you desire. While it can cost between $5 and 25K USD annually, ensuring a consistent brand message across all your channels is key to brand recognition and well worth the investment.
Features include:
Scheduling (booking, syncing to iCal, Google, Outlook

Set your availability and allow client self-booking

HIPAA compliant mobile apps for provider and client
Billing (out-of-pocket and insurance)
Payment processing and tracking outstanding and received invoices
Charting (intake forms, e-signature, and note-templates)
Document sharing
HIPAA compliant telehealth and video appointments and consults; on-screen note taking; screen share; webinars via Zoom
Secure messaging (including automated text and email reminders)
Client food logging
Custom reporting
Document and form e-signature and electronic submission
HIPAA, PIPEDA, GDPR, and PCI-compliant
Client education and self-serve portal
White-labeling options, so you can keep your own branding
Create packages, offers, and discounts to grow your business
Healthie provides support, training and free demos (videos, ebooks, blog, live chat)
Once you have customized the Healthie platform, many of the administrative aspects of your wellness practice are streamlined. This allows you to focus on what really matters – your clients. Not only that, but you can track everything in real-time from any device.
How Much Does Healthie Cost?
Like all healthcare and fitness online software, Healthie is subscription-based. The cost for this comprehensive EHR management tool varies depending on the size of your practice, the number of practitioners you have, and the level of functionality you need.
That said, the monthly cost ranges from $29 USD for a Beginnings package (that allows for up to 5 clients but does not include customization, telehealth, branding, e-filing, or API integration) to $149+ USD for a group practice.
If you would like to try this telehealth platform out, Healthie offers a 14-Day Free Trial for practitioners and is free for your clients to utilize. It is important to note that a credit card is required to receive your Free Trial and payments will automatically commence after the 14th day — so make sure to cancel if it doesn't work for you!
Alternatively, if you love how easy it is to manage your remote health practice with this app, you can subscribe to an out-of-the-box plan or have Healthie create a custom package for you and pay month-to-month or annually. While you can cancel your subscription at any time, the time left on your paid subscription will not be reimbursed.
Things To Consider
Healthie is a comprehensive software that boasts many features, which may or may not be useful for your health or wellness brand. It's like the swiss army knife of health practitioner tech tools, but there are cheaper options (listed below) if you don't need all the bells and whistles.
Health and wellness providers who use Healthie generally find the app user friendly, appealing, and easy to navigate. However, some small medical businesses can't always justify the cost for the number of clients they have. Some complain about the lack of customer support via phone; email or a chatbox is your only contact option.
In terms of functionality on mobile devices, iPhone users, generally, have a great experience. However some users complain that the Android version has had some bugs. Healthie's robust development team is continuously rolling out new features and upgrades.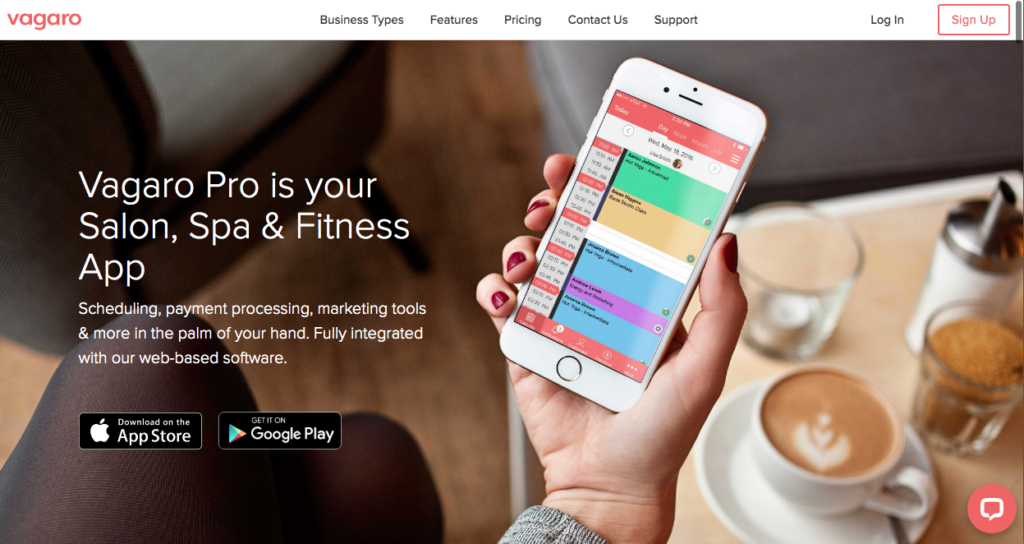 Designed for: wellness centers, personal trainers, fitness studios, and spas.
Vagaro is another powerful tech tool that offers a diversity of remote and administrative features. Its design is perfect for health and wellness providers who want more than just a booking app. Vagaro has all the features needed to conduct daily operations and is accessible on any device. It fully integrates with Facebook, Instagram, and Yelp, so clients can book appointments conveniently. Payroll and bookkeeping can also be integrated and syncs with Xero and Quickbooks accounting software.
Features Vagaro's client tracking and business management app includes:
Drag and drop calendar for scheduling
Customer tracking of bookings, nutrition and fitness
Automatic text, email, push notifications
Electronic processing of customized intake, invoices, insurance forms and progress reports
24-hour customer self-booking via app, Yelp, Google, Facebook, Instagram, widget on your website
Automated email marketing
Reporting
Website builder (add-on of $10/mo)
Custom logo design for $100
Custom website development for $100
Inventory tracking and selling
Online Store capabilities
Livestream classes or one-one consultations
Branded Business and Client mobile app for iOS and Android
POS and autopay
Payroll with direct deposit
30-Day Free Trial**
How Much Does A Subscription To Vagaro Cost?
If you are the only employee in your fitness or wellness business, a subscription without the website and logo design add-ons is $25 USD a month. The price increases depending on the number of service providers you have with 7 or more providers costing you $60 USD as a COVID special or $85 monthly regularly. For a more in-depth outline of their pricing and plans see Vagaro Pricing.
Unlike many fitness business apps, every feature is included in every subscription package. You will need to provide a valid credit card number whether you subscribe to a paid package or to a Free Trial – so don't forget to cancel that free trial if not interested.
Currently, Vagaro is offering the first 30 Days of your subscription free if you are for businesses in which you are the only service provider. Ordinarily, the 30-Day Free Trial does not include Yelp booking email marketing, or credit card processing. Additionally, in response to COVID-19, Vagarao has discounted all their subscription prices by $25 USD, so now may be a good time to give this business management app a try.
Pro tip – due to the current and urgent need to operate remotely, Vigaro is offering their "Just Me" subscription for free right now and you can cancel at any time without penalty, which is a better value than their 1-month free trial because you have access to all the features.
Service providers who subscribe to this client and fitness tracking software for their business find it easy to set up, very user friendly for them and their customers, and affordable. Vagaro has virtually everything you need to manage your fitness or wellness business completely online. However, if you operate a clinic that requires HIPAA compliance, medical level security, and SOAP charting, this is not the business management software for you.
Designed for: personal trainers, fitness professionals, coaches and nutritionists.
My PT Hub is a robust, cloud-based, business management tool. Service providers can create customized programs that include training, nutrition goals and workout plans for each client. And you can track their progress and provide feedback in real time through their iPhone or Android Apps.
Depending on the size of your business, you can add multiple trainers who can create their own online schedule and programs. Clients can easily access their schedule and coordinate changes to their appointment status through the client app.
My PT Hub Features:
7500+ workout exercise videos to share with clients in The Marketplace
Instructors can use PT Hubs library of workouts and exercises to create customized workouts for their clients or create their own
Nutrition planning, macros, logging, tracking and reporting, barcode scanner for real-time tracking through the app, Fitbit, and iWatch
Client admin – push notifications, messaging, notes, chat, electronic Physical Activity Readiness Questionnaire (PAR-Q)
Progress photos and progress tracking
Branding of app and custom app icon for iOS and Android
POS and payment tracking with Stripe
Unlimited clients
Social Share with embedded logo
Calendar and booking (client facing); sync to iCal, Outlook or Google
Reward/credit system capabilities; trainers can set up their own incentive/loyalty programs for client motivation and retention
Online storing and sharing of docs, ebooks, videos, images, excel sheets on the app's cloud
Access to The Marketplace for diet plans, program plans that you can use or customize
Live or on-demand streaming and chat (one-on-one or group) via third-party video streaming service like Vimeo, Facebook or Instagram Live
How Much Is A Subscription To My PT Hub?
A Standard subscription is $34 USD per month for up to 5 clients +$9 for each additional trainer monthly. With this subscription you have access to up to 50 workouts and diet plans, a custom subdomain, client monitoring, 1 GB of storage, calendar, packages, finance, forms, and branding. Aside from the limit on the number of clients you can have, a Standard package does not give you access to HIPAA compliance protection, or the ability to create and sell classes, bootcamps, or events. Therefore, if you want the ability to create and add classes, bootcamps, or events, that clients can buy and register for through the calendar, the Premium or mid-range package is best.
Their Premium plan is $84 + $5 per client each month, which includes compliance protection, classes, bootcamps, events, and unlimited clients, workouts, nutrition plans, and programs.
Alternatively, they offer a mid-range package for $49 USD monthly that includes unlimited clients, workouts, nutrition plans, and programs; the ability to sell online packages, and scheduling, as well as all the basic features. If you pay for your plan annually, My PT Hub offers a 25% discount. For their full pricing and package details see My PT Hub Pricing.
Things To Consider
Unlike Healthie and Vagaro, My PT Hub is just an app. In terms of tracking nutrition and diet, this application does not have a caloric calculator. And, if you need to be HIPAA, PIPEDA, GDPR, and PCI-compliant, this platform is not for you. While PT Hub provides automatic push and instant notifications for reminders within the app, it does not send SMS or email notifications. There also aren't any marketing tools provided and livestream video and chats are done by integrating and embedding a third-party service like vimeo, Facebook Live, or Instagram Live. They claim that those live services are HIPAA compliant if done from within the app, but depending on your type of business, you may want to consult with a compliance expert.
Customer reviews range from poor to excellent, many users have reported lagging issues and other glitches. However, having a client tracking and business management software application at your fingertips, that allows you to have unlimited clients, access to thousands of exercise videos, ready-made and customizable diet and program plans, at this price point, is a definite plus. And, MyPT Hub is one company that is always improving in response to their customer feedback.
Designed for: fitness and yoga studios, gyms, meditation centres, and integrative health clinics.
MindBody Online is another health and wellness tool for working remotely worth considering. It is more than a business management app for health and wellness. It is like having a search engine just for fitness, health, and wellness. For example, a yoga studio registers their business and also offers virtual services through the app. When customers search the app for local or livestream classes, the yoga studio will appear with links to their physical location, class schedules, and booking. Customers can post reviews in the app and rate the classes they attended virtually or physically which improves your ratings and visibility in the app (just like Google). There are 1.3 million+ users on MindBody which makes it a great marketing tool to get more attendees to your class. It also serves as a solid online business and client management tool for your health and wellness enterprise.
Functionalities of MindBody Online include:
Scheduling and calendar

Manage all service providers on one screen and allows for overlapping of classes
Clients can self-schedule
Post schedule on all your marketing channels; instant updating
Automatic text / email messaging
Multiple service providers can manage their schedules
Book rooms and equipment

Client and business App for iOS and Android
Tracking of clients, staff, inventory, and revenue
Video marketing
Manage Staff, Payroll and performance reviews

Control level of access for all staff

Reporting of all financial aspects of business operations from revenue and inventory to client data and payroll
Livestream
Record and upload video classes and messages for clients
Electronic paperwork processing
Automatic Client messaging and logging
Social sharing from the app
POS and autopay
Branding and integration with all your marketing channels and management systems
With marketing, client and business management accessible anywhere and any time through MindBody Online, it is an all-in-one solution for fitness coaches, personal trainers, and wellness service providers, especially when just starting out.
How Much Does MindyBody Online Cost?
The cost to subscribe to this health and wellness business management tech ranges from their Starter package $129 USD to $599 USD monthly for their Ultimate Plus plan, depending on the type of industry you are in, the number of service providers you have, and the functions you need. Starter packages are for "Just Me" businesses. To see what is included in each package and the cost, go to pricing, select your industry, respond to a few questions, and MindBody Online will provide you with a real-time estimate.
While some features are not available depending on the package you choose, others are available to you as an add-on. Unfortunately, branding is only included in the Ultimate Plus tier, but you can add branding for $249 USD a month. Regardless of what plan you choose, it will include unlimited staff logins, business training and support, data migration support, 1-on-1 set up and training, live customer support, and access on any device.
Things To Consider
Unlike other health and wellness business management software, MindBody Online does not offer a free trial. Instead, they offer free demos of the platform.
As a forerunner in the online realm of business management software for fitness, it has a solid reputation. However, many customers voice dissatisfaction with price increases, ease of use, and marketing features.
The marketing and instant access to potential class participants is definitely a plus for your livestreamed class. However, some fitness providers found that their clients were being emailed and messaged promotions from other gyms or studios on the app. As a result, their clients would stop taking their classes to take advantage of the specials their competitors were offering — making it difficult to build a steady base of clientele. Essentially, users of the app are clients of MindBody not yours. On top of that, if you opt into the internal app and marketing feature, they take a percentage of your sales revenue.
Initially, MindBody Online was the only fitness app available and quite affordable. However, it has become one of the premium priced options when compared with similar online client and business management tools for working remotely.
Designed for: clinical practices – therapists, consultants, dietitians, and integrated health practitioners – who are required to be HIPAA compliant.
Simple Practice is a robust and intuitive online business management tool that boasts being "the #1 EHR for Private Practice."
Features that Simple Practice EHR management software offers are:
HIPAA Compliance
Telehealth

Video calling and screen sharing
Client does not need a login or password
Automatic reminders

Client Portal

Send and receive secure mobile friendly documents
Request appointments
Send messages
Receive invoices, superbills, pay, manage cards, and receive statements

Scheduling and sync to iCal, secure two-way syncing with Google, Outlook
Automated text and email reminders and messages
Forms, notes that can be customized or use their templates with HIPAA e-signature
Tracking
Searchable library of thousands of ICD-10 codes
Treatment plans, notes, status exams, assessments, documents, and summaries are integrated for easy access
Access and use of Wiley Treatment Plans®
Billing with integrated credit card processing POS and autopay

Evening summary email
Third-party billing and payment via Client Portal
Store cards with bank level security

Insurance and third-party claim filing, processing, integrated ERAs

Auto-populate claims
Batch billing
Track
Reconcile

30-Day Free Trial with no credit card required
Simple Practice is exactly what its name suggests, an all-in-one, fully integrated, secure, and HIPAA compliant business and client management tool designed for the remote medical professional.
What Does Simple Practice Cost?
Simple Practice has two tiers for the solo practitioner and one for a group practice plan. The Solo Practice Essential Plan starts at $39 USD per month and includes everything except secure messaging, client self-booking, a booking widget for your website, and Telehealth video appointments. In terms of business administration, this tier does not include notes, access to Wiley Treatment Plans, electronic claim filing (you will be charged $0.25/claim), Integrated ERA/OEBs, or Automated ERA recording. Whereas the Professional Plan includes all the features and is only $20 more at $59 USD/month.
If you have more than 1 clinician, the Group Practice starts at $98USD per month and increases by $39USD for every extra clinician you have above 2. This plan includes all the features available which makes it a very affordable online EHR business management tool for your practice or clinic when compared to Healthie and it has integrated telehealth so you know it is secure. Unfortunately, at this base rate, POS and autopay are not available. Nor are automated invoicing, CMS1500/HCFA forms, coverage reports, superbills, Electronic claim filing (that $0.25 per claim applies), or integrated ERA/OEBs. If you require or would like to be able to use those features, they can design a custom plan for you (at a higher fee). For more detail about their plans and pricing see SimplePractice Pricing.
While Telehealth with screen share capabilities is listed as a feature, it is an add-on feature that will cost an additional $10 USD monthly, regardless of the plan you choose. However, being able to conduct guaranteed secure and compliant virtual appointments and consults may be worth that extra charge for your practice. Electronic claim filing is another feature that comes with a fee but they do have monthly packages available that you can add onto your subscription.
Things To Consider
Currently, Simple Practice is only available on iOS devices which may be a deal breaker. On the plus side, Simple Practice does not require you to provide a credit card to access their free trial. Your trial will simply stop in 30 days so if you forget, you will not automatically be subscribed to that plan nor be charged once it expires.
In terms of customer reviews, an overall complaint is that they do not have telephone person-to-person support (customer support is poor in general), and that Telehealth is unstable, especially when using a mobile device. If you are more old school and write a lot of client notes and docs by hand, there is currently no way to change those settings. As a result, you will get notifications about missed notes and documents which some find annoying. Many users also wished that there was the ability to conduct group video chats, sessions, or workshops.
Designed for: fitness clubs, gyms, personal trainers, dance, yoga, and meditation studios.
Classpass is another customer-focused client and business management app. Similar to MindBody Online, customers search the app for fitness providers in their location, book classes, and access live and on-demand sessions. It is an app available on iOS and Android devices boasting over 4,000 free on-demand workouts.
Features include:
Livestream sessions, appointments, or classes for free
Marketing your on and offline business through the Classpass network
Clients can book livestream sessions or enrol in in-studio classes
Scheduling
Reports
Revenue Tracking
Customer reviews
Clients pay for live classes or sessions using an in-app credit system
Providers are paid for live classes in-app clients attend
Post video classes, courses, sessions in app for free
Free trial for customers
Extensive resources for business management and marketing
If your goal is to monetize your classes through livestreaming to a global audience while generating traffic to your physical space, this app will do just that. It is a free marketing and revenue generating source where you can fill your classes, sell memberships, and packages.
The idea behind this app is that Partners (instructors) upload on-demand classes that are organized by type, length, and experience level for free. Users of the app access these on-demand workouts for free. Partners gain a following of on-demand users with the goal of having them pay, using in-app credits they purchase, to attend live classes off and online. Partners earn revenue for each attendee in their paid classes minus a relatively small commission.
How Much Does Classpass Cost?
In terms of subscription fees, it appears that it is free to become a Partner and Classpass earns income from charging commissions and from user's monthly memberships. However, they can only offer on-demand and livestream classes to their user's due to COVID-19. As a result, they are only offering their Digital Access Plan which is free to use. Because of that, it is unclear what a membership costs or provides to the user. CNN reports that said that memberships for users vary depending on location and number of classes per week they want to attend. For example, a membership in New York City, for 3 classes at the selected gyms per week costs about $45 USD/month.
Additionally, in response to COVID-19, Classpass are waiving their commissions for Partners. So until June 1st, 2020 (and possibly beyond), you will earn 100% of your fees from attendees and income from memberships and packages you sell. Typically, the commission rate is relatively low and depends on how much instructors choose to charge for their classes or services.
Further, Partners are free to set fees for their livestream services, memberships, and packages. Classpass then processes user payments, deducts a commission, and pays the provider what remains. If attendees don't cancel within 12 hours or miss a class, they are charged the full cost of the class and you, as the 'Partner,' still get paid. If you want to know specific details as to the commission rates, you will have to contact Classpass directly.
Things To Consider Before Using ClassPass as your Fitness Business Management App
The fact that Classpass fails to clearly state how much they take as a commission from each sale is problematic. According to a pole dance studio owner and Partner, a regular attendee generated $7 – $11 per class compared to her in-studio fee of $30. And a premium booking earned her a little over half her regular rate. Therefore, while Classpass is great for instructors just starting out because of their large user base, it may not be worth it if you are already established.
From a marketing standpoint, the question of whether you have access to your customers for external marketing is ambiguous. It seems that because Classpass owns the customer data they will do the marketing however they see fit.
Users do complain that customer service is very lacking. Also, the app continues to take membership payments even after canceling until users receive a confirmation email.
Initially, Classpass was a try-before-you-buy fitness and coaching app that capped users at 2 classes a week at a specific studio. If users wanted to attend more classes at that studio, they had to seek membership in the studio directly which made it a great free traffic generator for health and wellness businesses. However, it has evolved and now offers memberships that allow unlimited classes at the same studio or gym. Consequently, there is zero incentive for users to book directly with the Partner, which nullifies a key marketing benefit for businesses.
Designed for nutritionists, dietitians, naturopaths, and herbalists who need to be HIPAA compliant.
Lastly, we have the scheduling, fitness, and nutrition tracking software for providing remote care, Nutrium. Like My PT Hub and Simple Practice, it is an all-in-one platform for nutrition analysis, meal planning, and CRM.
Features include:
Branding
Meal Planning including recipe creation, caloric tracking
Scheduling through app, your website, or link

Sync with Google Calendar
In-app automatic notifications

Client self-booking
Automatic email messaging
Add multiple workspaces
Access to Branded Personal Page for free

Create an online presence that is auto synced to your workspace
Recipes you create automatically post to your page
Social media share and follow enabled
Blog enabled
Can keep private to your clients or public for building an online presence

14-Day Free Trial with no credit card requested
Online appointments with video integration

Integrates with Google Hangouts, Zoom and Skype
Screenshare
Share documents, recipes, forms
Synchronize with Google Calendar for automatic emails with link
Notifications via app

Can link your front desk to your Nutrium account
Create and analyze nutritional information of your recipes

Patients have access to this information
Including macro (nutrients the body needs in large amounts) and micro-nutrients (nutrients the body needs in small amounts) for each item

Meal planning
Food tracker
Create Food Lists
Water intake, weight, and exercise tracking (manually or via GoogleFit or AppleHealth)
Weight progress reports
Nutrition analysis adaptable for specific needs and requirements
Notifications in-app
HIPAA and GDPR compliance
Business and client app for iOS and Android (free for clients)
Customer support with registered dietitians
15+ food composition databases
Real-time client monitoring
Supports Spanish, Portuguese, French, and English
Nutrium is a cloud-based meal planning, nutrition tracking, client and business managing app that's easy to use. Their website provides easy to follow, step-by-step instructions for setting everything up and using the system. In terms of business administration, it has limited capacity beyond scheduling and meal tracking. It doesn't have POS or autopay, revenue tracking or reporting, or electronic filing for insurance or third-party payments.
Basically, it is a solid virtual meal planning, client tracking, and appointment app.
How Much Are Nutrium's Plans?
Nutrium plans are pro-rated according to number of clients. There are two tiers of packages. The first tier is the Meal Plan Package which includes everything except client messaging, weight logs in the mobile app, client monitoring in real time, and food diary analysis. The price for up to 10 clients is $28 USD per professional per month, if billed annually, or $35 USD if billed monthly. If you have up to 25 clients it costs $56 USD monthly, for up to 75 clients it is $77 USD/mo, and if you have more than 75 clients it will cost you $98 USD per professional per month, if paying monthly.
The second tier is the Follow-Up Package which includes client messaging, weight logs in the mobile app, client monitoring in real-time, and food diary analysis. With up to 10 clients, the cost is $44 USD per professional per month if paid annually or $55 USD monthly. If you have up to 25 clients, it costs $76 USD monthly. A practice with up to 75 clients is $97 USD monthly, and if you have more than 75 clients it will cost you $118 USD monthly per professional, or $94.40 USD/ month if paid annually. For further details on the packages and pricing, see Nutrium Pricing.
Things To Consider
Nutrium CRM Nutrition software is a clean cloud-based tool for managing your nutrition based practice. While it isn't as comprehensive as some of the other tools we have seen, it's appeal lies in its simplicity and specialization. If you don't need the administrative and financial aspects of your business integrated or accessible on-demand, this is a very reliable tool. In terms of language support, it is the only virtual health and wellness business management software that offers services in languages other than English, we have seen so far.
Generally, Nutrium receives very good reviews from practitioners. They love the ease of use, clean design, kcal tracking, real-time communication and tracking with clients, and exceptional customer service! Although the app is in 4 languages, the dietary values are only in North American measurements. So if you practice elsewhere you need to manually enter those values. In addition, the kcals and macros show on the practitioner's end when creating meal plans but not on the client's end. Clients can see their kcal and macros for the day but not for each meal which practitioners view as a major flaw since their role is to provide detailed nutritional counselling.
On the plus side, Nutrium embraces customer feedback and is continually making improvements to meet their needs. So what were flaws today may be features tomorrow.
Final Thoughts On Choosing a Business Management App
There are many online tools specializing in health and wellness that you can use to manage your business and care for your clients remotely. Some are stronger than others and each have their specialties. When choosing a cloud-based health and wellness business management app, it is important to know exactly what features you need. But it is equally, if not more, important to consider how that tech will help you meet your long term business goals in terms of branding, client/customer retention, and building your business. Don't sacrifice your long term business goals for the urgent need to provide remote services. With careful research and your big picture in focus, you will find the perfect online management software for your particular health and wellness business.
The tech tools you choose should have exceptional customer service and support so that you can rest easy knowing that if an issue came up it would be resolved quickly. To get a solid idea of how well each app responds to the needs of their customers, read external reviews from oldest to newest. When you do it will become very apparent which companies value their customers and use their feedback to make improvements to their apps, and which are nearly impossible to reach. Look for business management software that readily makes improvements based on customer feedback and is constantly updating to serve you better.
Once you have compiled a list of possible business management tools, take advantage of their free trials or demos, and customer support. From there you will easily narrow it down and be able to confidently subscribe to the best health and wellness business management app for your unique enterprise.